Elevate Your Culinary Experiences with Our Exquisite
High-End Event Catering and Private Dining Services!
Dining with Tim is an upscale event catering and private dining service situated in Sydney.
We specialise in crafting unique events and exclusive private parties.
Our distinctive qualities encompass top-notch quality, meticulous care, and impeccable style.
About
we bring you an
unrivaled dining experience.
At Grass and Bone, we are devoted to offering a wide range of high-quality meat and seafood products. We carefully select our ingredients from trusted suppliers who share our commitment to excellence, ensuring that every cut of meat and seafood we serve is of the utmost standard.

Whether you prefer tender wagyu beef, succulent lamb, or fresh seafood delicacies, we offer a diverse selection of options to satisfy any taste preference. Experience the best of both worlds with our exceptional meat and seafood choices at Grass and Bone.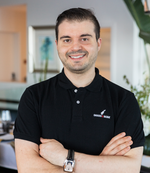 CHEF TIM
Since he was just 11 years old, Tim Freitas has been captivated by the world of food, with its prominent role in his daily life stemming from his European heritage.
At the age of 12, he cooked his inaugural meal for his family, taking inspiration from Jamie Oliver's early days as "the naked chef" and preparing a roasted leg of lamb dish with red onions, potatoes, and focaccia.
This experience proved to be a pivotal moment for Tim, as he recognised his innate talent for cooking and discovered his true passion, setting him on a path towards a career in the culinary arts.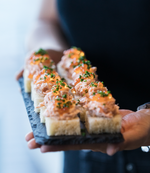 VISION
Tim considers himself incredibly fortunate to have worked at multiple distinguished restaurants and overseen several exceptional kitchens. During his professional journey, he honed his distinct culinary style, which emphasised the utilisation of top-notch, locally sourced ingredients that were sustainably produced, uncomplicated flavours, and meticulous preparation.
It's easy to forget the true deliciousness that food can bring. But by just prioritising quality and freshness in our ingredients, we can already make significant strides towards creating an outstanding meal.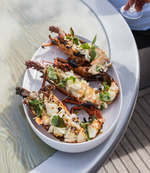 EXPERIENCE
With an extensive career history in the hospitality industry, Tim has held positions at a variety of esteemed establishments. Tim started his career at Flying Fish before moving on to work at Milsons, The Cut, and Daley's. He then honed his skills at Rockpool Bar and Grill and Woolwich Pier Hotel before joining the team at Langham Hotel.
Tim has also worked with the Solotel Group and W Short Group, gaining valuable experience in a range of roles and settings. His diverse career background has equipped him with a wealth of knowledge and expertise, making him an asset to any hospitality team.

SERVICES
where exquisite meats meet
IMPECCABLE SERVICE
Dining with Tim
Experience an exceptional, mouth-watering culinary sensation without lifting a finger, as Chef Tim, a private chef, brings his expertise straight to your doorstep. Enjoy top-quality food in the comfort of your own home with this exceptional service.

Whether it's a romantic dinner for two or a dinner party with friends, Chef Tim will provide an unforgettable dining experience that will leave your taste buds tingling. With his culinary skills and attention to detail, you can relax and enjoy the company of your guests while he takes care of everything in the kitchen.

Event Catering
For events with up to 40 guests, consider canapes and drop-off dishes for your catering needs. This option offers a diverse selection of delicious bites suitable for any occasion, from classic finger foods to unique and innovative options. With drop-off catering, you can concentrate on other aspects of your event while still providing a memorable culinary experience for your guests. Whether it's a corporate event or a family gathering, this hassle-free option is sure to impress. Opt for canapes and appetisers for your next event and take the stress out of event planning.

Corporate Catering
No matter what the occasion - whether it's a Melbourne Cup lunch, end-of-financial-year celebration, or a Christmas extravaganza – we have the perfect catering solution for you. Tim, our skilled chef can collaborate with you to create the ideal menu for your corporate event, tailored to your specific requirements. We're committed to delivering exceptional catering services that will impress your guests and elevate your corporate event to the next level.
MENU'S
BESPOKE STYLING

FOR YOUR EVENT

We understand that presentation is just as important as taste, which is why we offer bespoke styling for your event. Our team can create a customised design that perfectly complements your occasion, whether it's an intimate dinner party or a grand celebration.
Dining with Tim At home dining
Pricing based on minimum 8 guests. If less than 8 guests, additional costs will be applied
MENU 1 | $145 PER PERSON

To start
Pepe Saya Butter & Sourdough

Entree
Sashimi of Tasmanian salmon, ponzu, jalapeno, sesame & coriander

Main
Roasted Lamb loin, braised shoulder, carrot cream, roasted heirloom carrots, toasted hazelnuts & lamb jus

Dessert
Vanilla Panna Cotta, roasted pineapple, raspberries & caramelised white chocolate

MENU 2 | $165 PER PERSON

To Start
Pepe Saya Butter & Sourdough

Entree
Yamba prawn spaghetti, roasted heirloom tomato sauce, basil & prawn oil

Main
Roasted Truffle chicken breast, twice cooked thigh, corn puree, porcini mushroom sauce & dill oil

Dessert
Chocolate mousse, macerated cherries, crushed chocolate cookies, salted chocolate sauce & caramelised peanuts
MENU 3 | $190 PER PERSON

To Start
Pepe Saya Butter & Sourdough

Canape
Kingfish ceviche, jalapeno, chives, lime & crispy rice

Vegetable
Seasonal vegetables, goats curd, dehydrated olives, quinoa & petit salad

Fish
Pan roasted snapper, tomato butter, spinach & mussel sauce veirge

Meat
Braised beef short rib, shallot and herb crust, potato sardelaise, roasted mushrooms & bordelaise

Dessert
Lemon curd, sable biscuit, meringue, raspberry sorbet & whipped vanilla yogurt
MENU 4 | $230 PER PERSON

To Start
Pepe Saya Butter & Sourdough

Canape
Oscietra caviar, Creme Fraiche & toasted brioche

Canape
Shucked oyster & shallot vinaigrette  

Vegetable
Roasted heirloom tomato tart, lyonnaise onion, buffalo mozzarella, basil & olive oil

Fish
Tuna tartare, harrissa eggplant, cumin mayonnaise & coriander

Crustacean
Prawn and crab risotto

Beef
Mayura Station MB9+ Full Blood Wagyu Sirloin, paris mash & truffle jus

Dessert
Banana and Biscoff tiramisu, salted caramel & chocolate ice cream
SIGNATURE MENU | $400 PER PERSON

Canapes
Oysters, Beluga caviar, roasted tomato vinaigrette, shiso
Potato and steak tartare sandwich, truffle, aged cheddar
Scallop ceviche, sea urchin and avocado tostada

1st Course

Blue Fin Tuna Belly, master stock abalone, sea succulents, smoked mushroom and kombu broth

2nd Course

Pan Roasted Murray Cod, potato sardelaise, olive and mussel salsa verde, saffron sauce


3rd Course

A5 Japanese wagyu steak MB12, horseradish, lime, fried shallotSide: butter lettuce, herbs, panko crumbs, sherry honey dressing


4th Course

Vanilla and Yuzu Mille-feuille, raspberry, mascarpone, black sesame and white chocolate
CANAPE PACKAGE PARTIES of 20+ PEOPLE
5 PIECE | $55 PER PERSON

Kingfish
ceviche, salmon caviar, jalapeno, coriander, lime, crispy rice

Roasted
tomatoes, Ortiz anchovies, parsley, olive oil

Tart
of slow Roasted leek, goats cheese, thyme, honey

Prawn
cocktail roll

Wagyu
beef cheese burger, bacon, pickle, mayo
7 PIECE | $70 PER PERSON

Sesame
Seared tuna, avocado, wasabi, ponzu

Cold
Prawn slider, lettuce, lemon and dill mayo

Fresh
shucked oyster, shallot & sherry vinaigrette

Cherry
tomato, buffalo mozzarella, basil, olive oil

Chicken
thigh skewer, baby corn, chive, brown butter

Mushroom
risotto, truffle butter, parmesan, mascapone

Chocolate
brownie, salted caramel
9 PIECE | $90 PER PERSON

Scallop
crudo, lime, coconut, cucumber, Oscietra caviar

Sashimi
salmon, butter milk, dill oil, wasabi

Steak
tartare, crisp potato, cheddar

Lyonnaise
onion, la luna cheese, puff pastry, truffle honey

Kim
chi pear, seared foie gras, carrot and orange

Twice
cooked pork belly roll, red eye mayo, roasted brocolini

Lamb
rack, salsa verde and preserved lemon

Petersham
Portuguese tart

Vanilla Panna cotta, torched
Banana, Raspberry
Gallery
Elevate your event with our gourmet meat catering.
At the heart of our business is our commitment to exceptional service. We understand that every event is unique, and we work closely with our clients to ensure that every detail is taken care of. From menu planning to on-site catering, our team is dedicated to creating a seamless and stress-free experience.